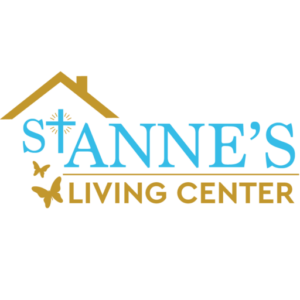 Our mission at St. Anne's is to provide a safe, caring, and family-like home for our residents. Inspired by St. Francis, we strive to serve each person who comes to us as we would Christ. We welcome those who come to us from various backgrounds, treating them with love and dignity while providing for their physical, emotional, and spiritual needs.
St. Anne's strives to embody the gospel message in accord with the "Ethical and Religious Directives for Catholic Health Care Services" given by the U.S. Council of Catholic Bishops.
The name "St. Anne's Guest Home," which we've used for years for our Basic Care facility, draws from our tradition of treating each of our residents as an honored guest, with dignity and love.
* * *
WE BELIEVE…that the God-given rights and dignity of the person must be protected from the moment of conception through natural death.
WE BELIEVE…that St. Anne's is an integral part of the work of the Church.  As such, it is an extension of Christ's mission of mercy.  In serving the elderly and vulnerable, we serve Christ in a special way.
WE BELIEVE…that our Franciscan spirit of simplicity and service makes a unique contribution to health care in the acceptance of all persons in need regardless of age, sex, race, color, religion, national origin, financial status, physical or mental disability, or marital status.
*****

St. Anne's is managed by Franciscan Sisters
(Hankinson, North Dakota Province of the Dillingen Franciscans).
Recognizing the person's unique composition of body and soul, total care is provided to meet the physical, social, emotional, and spiritual needs.
The Sisters have been providing services to the elderly and vulnerable since 1945, at which time a 20-bed home was opened in Fargo.
It soon became evident that a need existed for larger facilities.  So it was that in 1952, at the request of Bishop Dworschak of the Diocese of Fargo, the Sisters came to Grand Forks,  converting the old St. Michael's Hospital into a home able to accommodate over one-hundred residents.
In 1978, the Sisters were informed by the state fire marshal that the old hospital could no longer comply with state fire codes and would have to close its doors.  Plans for a new facility were made with the help of concerned Grand Forks citizens and in 1981 the move was made to its current location.
St. Anne's now has two beautiful units for the care of the elderly and vulnerable:  Forty-seven rooms for basic care in the South Wing and thirty low-rent efficiency apartments in the North Wing.
Throughout these years, the Franciscan Sisters have constantly striven to create an environment of living and sharing the Gospel message.  They, along with other staff, have provided those services to the elderly and vulnerable to meet their physical, social, psychological, and spiritual needs.