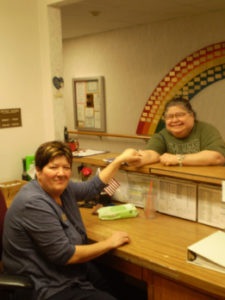 At this time of year (January or February), St. Anne's has the tradition of recognizing and thanking our staff for their service to our residents with an appreciation dinner.  Those celebrating milestone years/anniversaries of employment with us are especially recognized.  
This year, we'd like to thank the following for their years of service:
Jeff (Maintenance) – 45 years
Mary (2nd Floor) – 15 years
Chuck (Bookkeeping) & Sr. Christina – 10 years
Lori (PM Aide) & Zachary (Nights) – 5 years
On another note, St. Anne's is looking to hire an individual to serve as an evening cook.  This is a part-time position.  If you (or someone you know) are interested, please visit www.stannesguesthome.org/employment to apply.