How many of you remember May devotions to Mary as children?  Although the origins are somewhat unknown, they seem to have originated in Italy.  However, according to Wikipedia, May devotions "spread eventually around the Roman Catholic world in the 19th century."  Actually, according to an online resource from the University of Dayton, coronations of Mary have been a common practice since the late 1700s in the West.  As far as images of Mary being crowned, we might find the first one back in the book of Revelation, where the writer, St. John, saw "a woman clothed with the sun…and on her head a crown of twelve stars." (Rev. 12)
Here at St. Anne's the tradition, obviously, is not quite so ancient.  We have been holding a "May Crowning" here with our residents for the past several years, usually in our back courtyard off the atrium (see below).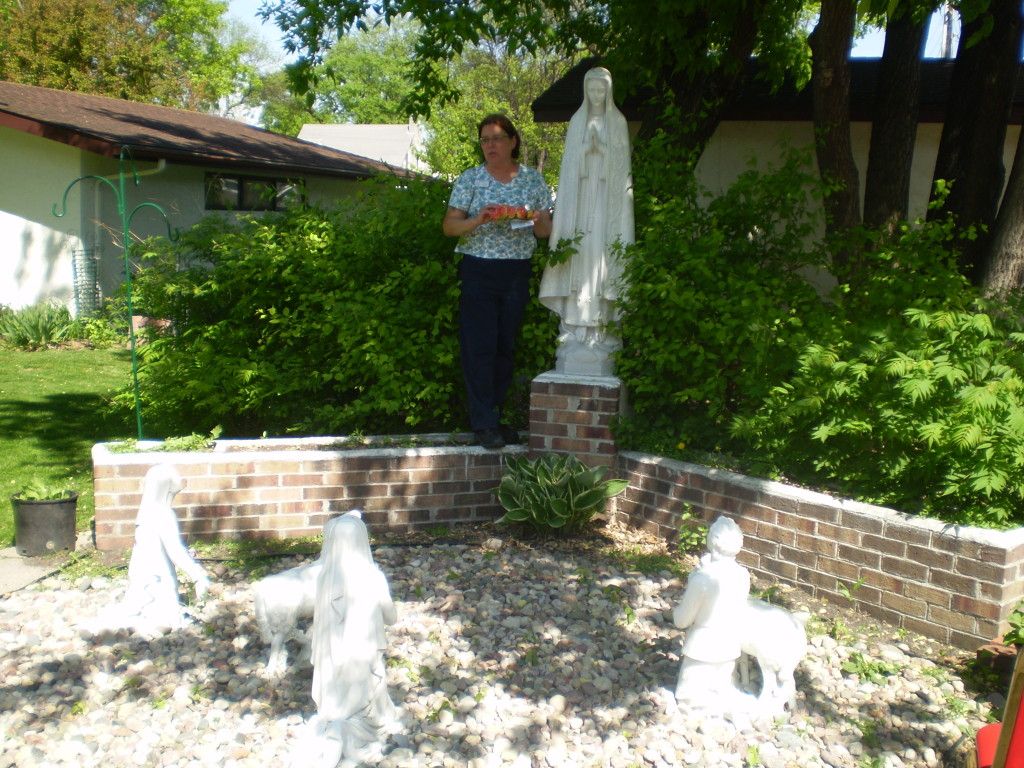 This year, we hope to again have our May Crowning outside on Tuesday, May 16 at 3 p.m.  Visitors are also welcome to join us in honoring our Blessed Mother.  Let's pray for good weather.  (If you plan to attend, please let me know so I have enough seating.)
The ceremony usually includes a couple of hymns, prayers, and a little reading and/or reflection.
PS: As we mark the 100 year anniversary of the Marian apparitions at Fatima, our little grotto in our outdoor courtyard needs desperate attention.
It would need to be sand-blasted and re-painted.
Anyone interested in contributing toward this (or having the capacity to do this and interested in volunteering) would be encouraged to let us know. We would appreciate it.